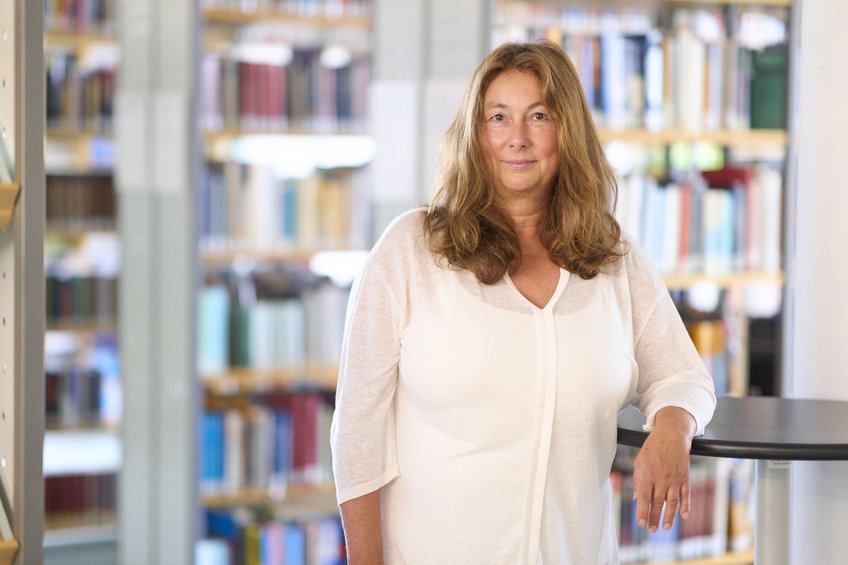 Librarian with heart and soul
Karin Fröschl plays a central role at MPQ: as head of the scientific library she is a highly valued advisor for all matters around the management of publications - as acting conflict counselor also for various others.
Karin Fröschl manages the MPQ's scientific library. She provides scientists with important access to literature and publications, negotiates licences, checks impact factors, carries out bibliometric analyses and advises. She is a professional in all questions of open access and copyright. When the digital transformation started to change the world of libraries, she has experienced this process first-hand and from the beginning - and shaped it herself at the MPQ. But what she has preserved of the classical library to this day is the place of tranquillity and exchange of ideas that invites many to linger. Karin Fröschl is also currently the conflict counsellor at the MPQ - one more cause for colleagues to come around. 
Whoever comes to visit the Max-Planck-Institute for Quantum Optics (MPQ) taking the road from Garching, only gets to see the asphalted street, the construction sites and the futuristic style of the buildings at the Science Park Garching. However, the view is deceiving: directly behind the institute, concrete and glass are a thing of the past. That is where the Science Park ends and the fields begin, meaning an expansive view, a cluster of trees and birds chirping. And that is exactly where two folding chairs under an umbrella invite you to rest and let your gaze drift into the distance.
"That is our book reading garden," says Karin Fröschl, who was responsible for establishing this little treasure. Seating area, table, and umbrella are separated by a small hedge from the adjacent field where the wheat was growing late into the summer. The reading garden is right next to the library where Karin Fröschl is the head of. She arranged the outside sitting area, and she also brought the green into the library: between long rows of books there is a small desk that is covered by a large ficus tree and a seating area that is equally surrounded by house plants in lush green. The MPQ library, that is her library. Her realm that she shares with everyone and keeps pleasant for all. People enjoy coming here. To browse between books. To read. To change their workstation. To exchange opinions. To take a break.
Karin Fröschl has been working at MPQ for nearly 25 years. Back then, she had applied for a job that was advertised as a part-time position. She wanted to spend more time with her daughter who was very young at the time. Today, her daughter is nearly 30 years old, independent, and Karin Föschl works full-time. Karin Fröschl was born and raised in Munich. After receiving her Abitur, the German secondary education certificate, she subsequently went on to train as a bookseller at a small company with three branches in Ottobrunn in the county of Munich. "It was great that it was a small company because I had to learn everything. If you have to take care of the cash register, purchasing and accounting, you learn how everything is interrelated." Her training helps her even today with her current job, says Karin Fröschl. "You just know what other departments need from you in order to continue working." After her education, she wanted to travel. Together with two friends, she did a road trip across the USA. Back in Munich, she found a job at a big Munich publishing house. There, she was responsible for the literature research, as well as the publishers private libraries. When she applied for a position at MPQ, she realised how different the two worlds were.
"It was quite a change, coming from this chic world to an institute full of machines and scientists where appearances don't matter that much. I really liked it and felt home straightaway."
When she first started working at MPQ nearly 25 years ago, the institute was still headed by the two founding directors Professor Karl-Ludwig Kompa and Professor Theodor Hänsch, as well as Professor Herbert Walther and Dr. Siegbert Witkowski. They were then dealing with quite different areas of quantum optics than the directors at MPQ today. But Karin Fröschls work also was taking significant changes: 25 years ago, the digitalisation of the library system was in its early beginnings. Karin Fröschl remembers: "It started with some scientific journals being accessible online. Open access, however, was completely unknown back then. Sometimes you were sent a PDF. But most of the time you had to order books and journals from other libraries, via phone or letter," she says. And: "Back then, I was one of three percent of women in Germany who used the internet. At that time that was still special and I was quite proud of it."
This predominantly analogue world has changed completely, as have Karin Fröschl's areas of responsibility: researchers affiliated with the Max Planck Society (MPG) generally have access to more journals than most of their colleagues because the contracts for the most important scientific journals are negotiated centrally by the MPG. However, in the case of more specific publications Karin Fröschl has to take care of it.
"As librarians at MPG we work well together, which means that often I will receive a scientific article from another institute really quickly. But sometimes I have to talk directly to the publishing house, and that takes more time."
With the publishing houses she also has to negotiate licences for journals that are specifically acquired for the institute. The fees can easily add up to several thousand euros per year: Fröschl admonishes: "many scientists at MPG don't realise just how much work and money has gone into making sure they can access research articles online." Generally, it is her job to help every employee at the institute, whether they be doctoral students or the director, find the literature they need for their research. The quicker the requested title is available, the bigger the joy, of course. "If someone urgently needs a paper to continue with their research, obviously they need it as soon as possible and don't want to wait for days." Furthermore, she also helps with finding appropriate journals for publications, examining aspects such as respectability and impact factor, as well as helping with complex publishing processes and bibliometric analyses and advising in questions regarding open access, publishing and copyright.
If you ask others, they'll tell you that Karin Fröschl is the soul of the institute. She laughs: "I couldn't say, it's something others have to know." In fact, there are quite a few signs that she is someone who cares about other people's concerns: everyone knows her, she was an important and long standing member of the Works Council and, during the second last term even its chairwoman, and meanwhile she has been chosen for conflict councellor at the institute. That means anyone who has a conflict with another member of the institute can go and see her: "The job isn't exactly trivial," she says, "you always have to be neutral, and also hear both sides of the story to solve the conflict."
She is happy whenever people use the library as a resting place where they can find peace and quiet. Karin Fröschl: "Many people seem restless and stressed when they enter the library, but they are more relaxed when they leave."
(AE/KJ)