Prevention and Security Measures against the Corona Virus
Information and safety instructions for all scientists, employees and guests at MPQ
The following measures are currently in place to further contain the spread of the Corona virus and to protect the health and safety of our employees. We also recommend that our employees install the new Corona alert app on their smartphones to help an early detection and significant reduction of the virus.

*this website is constantly updated. Newest entries in italics.
Every employee obtains a free FFP2 mask for every day they work in or commute to the institute in the administration office (room C 1.60), as well as up to two Corona rapid tests per week for the time spent in the work place. Please make use of this suggestion!
Colloquia and events
Events and colloquia can take place as long as the current infection protection rules are observed. Specifically, the seating arrangements need to be compliant with the 1.5-meter distance requirement. We ask that whoever wants to participate is either fully vaccinated, tested negatively, or has recovered from a COVID-19 infection. Guests at MPQ that cannot provide a proof of vaccination or recovery are under the obligation to get tested. If needed, COVID self-tests are available in the administration office of the Head of administration.
Gym, showers and sports activities in general
From August onwards, the gym will be open again. Up to two people at a time are allowed to use the gym. Since more aerosols are in circulation during physical exercise, we ask you to maintain a 3-meter-distance between two persons using the Gym at the same time
Similarly, it will be possible again to use the shower facilities. Up to two people at a time may use the men's showers and changing room, while the women's showers may be used by one person at a time. We would like to remind you to please not leave any personal items (e.g. towels) in the shower or the changing room.
Activities such as yoga classes may resume too, but the number of participants should be limited and classes should take place in more spacious rooms than previously (e.g. B.032).
Private gatherings
Private gatherings with a clear connection to activities at MPQ (e.g. to celebrate a PhD defense, retirement,...) may take place in outdoor areas of MPQ. However, the host is responsible to keep an updated list of all participating guests and to ensure current Corona regulations. Additionally, the number of participants should be limited to 20-30 people. We would like to remind you that at MPQ we aim to serve as a role model. We therefore ask you to organize and host such private gatherings at a reasonable level.
Mandatory wearing of masks
The requirement to wear surgical or FFP2 masks when moving within MPQ or in offices/labs without protective measures (e.g. acrylic glass separators) remains in place.
Travelling to designated risk areas and in general
Business trips are possible, but need to be approved and signed off on by the respective supervisor.
Returning from trips
Before returning from your trips and holidays, inform yourself whether the area you spent your time has become a risk area. Everyone who enters the country from a foreign risk area is obliged to quarantine for at least five days upon arrival. Only then, a Corona test is possible which again is mandatory. The quarantine must be kept until negative test results are available. The duration of quarantine was reduced from former 14 days to now 10 days. Exceptions from this rule are possible for business travel with less than two days durance and urgent family matters.
Even if you haven't travelled to a designated risk area you are still asked to stay at home for a few days and work from there. Wait and see if you experience any symptoms. If you feel like you're catching a cold or other typical symptoms get tested for COVID-19 immediately. Only return to work after being tested negative.
Employees who decide to go on a private trip to an area which is officially declared risk area must consider further consequences after their return, in addition to an obligatory self-isolation and/or COVID-19 testing. If, for example, work cannot be conducted from home, the entitlement to remuneration is defunct for the time of obligatory self-quarantine. In any case, home office must be agreed by with the employer/ supervisor beforehand; there is no general right to home office.
If employees turn ill with COVID-19 shortly after they spent time in a risk area, the entitlement to continued remuneration in the event of illness (Continued Remuneration Act) may be not apply, depending on their individual behaviour. It is therefore all the more important to comply with all infection prevention measures in the respective country. In addition, employees who fell ill with COVID-19 are obliged to cooperate in clarifying their own culpability. In other words, they must provide appropriate information to their employer.
Corona rapid tests at the Institute
According to the Occupational Health and Safety Ordinance, we are from now onwards handing out up to two Corona rapid tests per week per employee. These rapid tests can be collected from Ms Schmidt's office (Room C 1.60) and are to be understood as a additional protective offer from the Institute. There is no obligation to take the test, but it is strongly recommend that you make use of this extended level of protection, especially if you carry out activities at the institute where you come into closer contact with other people. It is best to take the test at home before you start work. In case of a positive test result, you should not come to the institute and seek further medical advice or take a more precise test. Please inform Ms Schmidt by E-mail of the test results. isabell.schmidt@mpq.mpg.de
The data will be documented at the institute and deleted after two weeks.
IMPORTANT: Even with rapid tests, you should continue to make use of home office regulations wherever possible. Mask and distance regulations must continue to be strictly observed at the Institute. The number of staff at the Institute should continue to be kept low for the time being.
Covid-19 self tests: Use and handling
Corona PCR tests
For all employees or longer term guests who need testing but do not have a GP or permanent residency in Munich, we recommend the following proceeding:
- Get in touch with the patient service of the Kassenärztlichen Bundesvereinigung (National Association of Statutory Health Insurance Physicians) under the following phone number: 116117 (without predial)
https://www.kbv.de/html/aerztlicher_bereitschaftsdienst.php
https://www.116117.de/de/coronavirus.php
- Check into a hospital
- Check into a test center, which you can find in this list: https://www.landkreis-muenchen.de/themen/verbraucherschutz-gesundheit/gesundheit/coronavirus/corona-test/
But please be aware, there are center in this list, for which you need a letter of referral. The test center at the Theresienwiese requires an online booking upfront: https://www.corona-testung.de/
Here you can find a list of doctors who have specialised on Corona testing. Appointments need to be made individually. https://dienste.kvb.de/arztsuche/app/suchergebnisse.htm?hashwert=828f85d3c7264213f24ce1b7a7c1d&lat=48.1351253&lng=11.5819805&zeigeKarte=true
Attendance at the institute and home office
Offices should continue to be occupied only by one person at a time. To avoid overcrowding, offices with more than one employee booked in shall alternate by taking turns. This rule applies to all areas of the institute. In the labs, one person per 10qm² is allowed. Across all divisions (scientific, administrative, support) we recommend building alternating teams which should at best not mingle or meet.
The options to work from home will continue to be handled with great flexibility. Please contact your direct supervisor. If you have technical difficulties or questions please get in touch with the IT department, which will remain staffed with a minimum of one person on site.
The option to work from home applies especially to those colleagues who are considered a "risk group" and therefore need special protection. According to the Robert Koch Institute, these are in particular older people and those with certain pre-existing conditions and suppressed immune systems. All employees associated to any risk group are granted home office regardless of their specific tasks and duties.
Psychological support
The Corona pandemic is an extraordinary situation that among other things causes psychological distress. The danger of infection from a novel virus and the racing and unpredictable dynamic of developments, both leading to immense limitations in personal freedom may implicate personal insecurities and pose challenges to the human psyche. We wish to support our employees and help to reduce and process any distress they may perceive. Therefore, we emphasize the possibility to make use of psychological guidance from our coach Shadi Nouyan. Meetings with her can be conducted without any risks of infection via phone or video. Every employee is free to arrange a meeting in complete anonymity and independence of the institute. All meetings are under high confidentiality between employee and coach, and financially covered by the institute.
Contact details are as followed:
Shadi Nouyan
training, beratung und coaching
Lillweg 8 - 80939 München
phone + 49 (0) 89 - 123 084 02
mobile + 49 (0) 179 - 11 55 618
If you feel like learning more about the topic, here are some initial sources we can recommend:
Harvard University: https://www.harvard.edu/sites/default/files/content/coronavirus_HUHS_managing_fears_A2%5B5%5D.pdf
CNN Health: https://edition.cnn.com/2020/03/14/health/coronavirus-fears-mental-health-wellness-trnd/index.html
World Health Organization (WHO): https://www.who.int/emergencies/diseases/novel-coronavirus-2019
German Federal Ministry for Health: https://www.zusammengegencorona.de/en/
Events
Until further notice, all conferences and symposia at MPQ must be cancelled, the Photonlab (students' lab) also remains closed, and there won't be any external visitor tours.
Language courses and yoga classes at MPQ cannot continue under the current circumstances and are cancelled until further notice. The gym and the showers remain closed until further notice. As soon as the situation allows us to reopen the showers we will implement a concept of a time stretch in between individual usages.
All colloquia will continue to be held online only. For every lecture a new link will be provided. As always there will be time for questions after every talk.
Group meetings
Group meetings in persona are to be held only with great necessity and then limited to a maximum number of six participants. Please use only! spacious conference rooms like Herbert Walther Hörsaal or B 0.32 and conform to the minimum distance of 1.5m.
Group rooms
For all group's social rooms, we will mark a maximum number of people who are allowed to stay at the same time in order to avoid overcrowding.
Code of conduct in the institute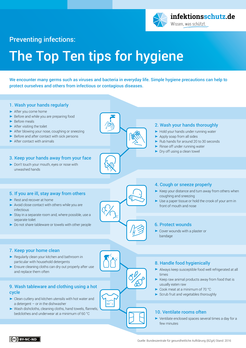 The corona virus Sars-Cov-2 is highly contagious. It is therefore particularly important to follow hygiene measures very closely. We have distributed disinfectants throughout the institute. A dispenser for hand disinfection is available in the entrance area, which should be used with every entrance to the institute. Recommendations on best practice hygiene measures are shown in the infographic and should be followed closely. Please wash you hands every time you enter or leave a lab or office, before touching any items, and after every coughing and sneezing. Try to avoid touching your face. On top of that we ask you to use desinfectants to clean surfaces and keyboards wherever possible.
Cover nose and mouth: Since April 28, 2020, a general obligation to cover mouth and nose inside the Institute is in place. This rule applies to all areas of the institute, including work in the laboratories, except when people are alone in laboratories and offices. The mask may only be taken off then and during meals. We provide all employees with a mask, which they can pick up at the gate in the morning. Always disinfect your hands before touching and putting on a mask.
Important note: Don't misjudge the safety of masks. The virus can still be transmitted if the distance rules are no longer observed. For maximum protection, keep your distance and wear masks.
Distance regulations: Keep your distance to other people, at least 1.5 metres better two metres if you are talking to people. This applies especially to the lunch breaks on the terrace, when you are not wearing a mask. It is perfectly okay and desired to keep others at a distance during meetings! This is our new rule of politeness in dealing with each other. You should refrain from "shaking hands" when greeting people.
Cafeteria operation/lunch break: With the new and stricter Corona regulations in Bavaria coming into effect on the 11th of Januar, our canteen has to close its doors. Please refrain from taking any kind of drinks and meals in the cafeteria as well as in the communication zone. Please take your lunch alone and ideally in your office. Please adhere to these rules for the time being in order to protect others and support the effectiveness of these regulations.
N95 masks: To provide our employees with the best possible protection, the head of the institute ordered so-called N95 masks for all those who have to commute to work using public transportation. Those masks offer a more effective protection, because they filter particles from the air. So, if you travel to work by public transport, you can get one of those masks in Mr. Piehlers secretary's office.
Guests
For the time being, we set an orientation value of one guest per day per department. For exemptions please talk to your supervisor.
Student assistants, working and Bachelor students are allowed to return to the institute. They should be able to work as autonomous as possible and with as little on-site contact as possible.
It is now allowed to invite job applicants who are very far in the recruitment process and highly in demand to come and visit the institute.
All guests and visitors must complete a guest form and submit it to the reception when entering the institute.
Please submit this form, when entering the institute as a guest or visitor.
Symptoms of illness
All people who experience symptoms of illness or a feeling of discomfort typical of a cold are encouraged to stay at home and should either call in sick, or if less drastic, work from home. In case of a flu-like illness, a sick note must be made. In order not to increase the risk of infection in medical practices, the first medical consultation should be made via phone. In any of those cases the institute should stay informed about further developments and courses of illness. Contacts are listed on the right.
If any acute symptoms occur during working hours or whilst being present at MPQ, the institute is to be informed immediately. For these purposes an emergency room (C 2.69) has been set upwhere employees can withdraw and, if necessary, put on protective masks until further action, such as transport at home or medical consultation have been taken.
In order to keep track on how many people are currently either sick, in (self) quarantine and/or home office, we ask the team assistants to collect this information and submit it on a weekly basis (every Friday) to the head of administration.
Informing the Institute
Please contact the institute immediately if any of the above cases eventuates. The same holds if you feel unsure about any of the situations above and require assistance. The institute is also to be kept informed on a regular basis on any cases of illness and/or abstinence from the workplace.