Prevention and Security Measures against the Corona Virus
Information and safety instructions for all scientists, employees and guests at MPQ
The following measures are currently in place to contain further spreading of the corona virus and to protect the health and safety of our employees. We also recommend that our employees install the new Corona alert app on their smartphones to help early detection and significant reduction of the virus.

This website is constantly updated. Latest entries in ***italics***
Every employee obtains a free FFP2 mask for every day they work in or commute to the institute in the administration office (room C 1.60), as well as up to two Corona rapid tests per week for the time spent in the work place. Please make use of this offer!
***Abolition of the 3G obligation at the workplace***
As of 19 March 2022, the 3G rule at the workplace no longer applies. Accordingly, employees are allowed to enter the institute regardless of their vaccination status. However, we ask all employees to continue to voluntarily and independently test themselves at home before coming to work. All necessary tests will continue to be handed out at the known locations (administration offices and reception).
***In-house testing***
Due to the rising number of infections, we want to continue to provide all employees with a free self-test for every working day they spend at the institute, at least until 25.5.2022. I would particularly ask those who have not yet received a vaccination to continue to make use of this offer.
***External visitors***
Prospectively until 25 May 2022, the 3G rule applies for all external visitors. The proper wearing of an FFP2 mask is mandatory. Events with external visitors, such as colloquia, guided tours for visitors or events in the school laboratory, must take place in compliance with the minimum distance rule of 1.5 metres.
***Obligation to wear a mask***
There is still an obligation to wear an FFP2 or medical mask in the corridors and wherever the minimum distance of 1.5 metres cannot be guaranteed. Many studies have shown that the correct wearing of the FFP2 mask effectively protects against infection. We therefore ask you - wherever possible and reasonable - to wear an FFP2 mask. The wearing of an FFP2 mask is obligatory at events.
***Home Office***
As of 19 March 2022, the home office requirement will no longer apply. In the administration, the flexible home office arrangement will nevertheless remain in place. All other departments can handle the home office regulation independently in consultation with their respective supervisor.
Instructions: What do I have to do if I test positive for Corona?
The Omicron variant is highly contagious and the number of infections is rising. In yesterday's crisis team, we therefore compiled the most important rules of conduct to be observed in the case of an infection with SARS-CoV-2:
If your PCR test results in a positive infection with. COVID-19, the laboratory of your testing centre will automatically inform the public health department. The health department will then prescribe home isolation (quarantine). If you test positive by a rapid test, we advise you to first contact your family doctor and have the rapid test result clarified by means of a PCR test, if necessary.
Please inform the HR department and the administrative office of your department immediately.
Please also inform the employees that you have regular contact with at work. Close work colleagues of an employee infected with COVID-19 may continue to come to work, but we strongly recommend that a rapid or PCR test be carried out beforehand to clarify a possible infection.
The health department decides when the home isolation ends. Usually, home isolation ends after 14 days at the earliest and upon proof of a negative antigen or PCR test. As soon as your quarantine obligation is lifted, please inform once again the HR department, as well as your respective administrative office.
Quarantine regulations
Since 15 January, there has been a relaxation of the quarantine and isolation regulations, meaning that:
Close contacts who (a) are fully vaccinated and have received their third ("booster ") vaccination, b) are recently double vaccinated (the second vaccination was at least 15 days and at most 90 days ago) and c)have been vaccinated and have recovered or d) are recently recovered (the positive test in question was at least 28 days and at most 90 days ago), no longer need to go into quarantine.
For all others, quarantine usually ends after ten days if the respective person shows no symptoms related to Corona. There is also the possibility to end the quarantine period after seven days by providing a negative PCR or certified rapid test.
A few important notes:
Even if you are a close contact that is exempt from the obligation to quarantine, we still ask you to exercise as much caution as possible. Ideally, we ask you to test yourself daily before coming into the office to rule out an infection with SARS-CoV-2.
In case you have to go into quarantine, we still urge you to get tested once your quarantine period ends, even if you show no symptoms and are allowed to return to work without providing a negative test. Please consider taking a PCR or certified rapid test that have proven to be more reliable than rapid self-test kits.
We assure you that taking time off in order to quarantine will not result in any loss of salary. We are also aware that anxiety levels can vary considerably. If for any reason you feel uncomfortable (example: a close contact of someone infected with Covid is returning to work without quarantining), please contact HR or your supervisor who will surely be able to work out a satisfactory solution with you.
Canteen: Observance of the minimum distance/availability of additional seats in the transitional lecture hall
I kindly ask you to observe the minimum distance of 1.5 metres in the canteen: please do not move the chairs, but stick to the given seating arrangement. In order to avoid crowding, especially at peak times, we are now providing additional tables in the transitional lecture hall between 12.00 and 13.00 where lunch can be consumed. Please make use of this offer.
Official travel to designated risk areas and general -- quarantine regulations
Business trips abroad are possible, but must be approved and justified by the respective head of department.
Please note that the European Union has decided to limit the validity of vaccination certificates to 9 months. We therefore urge you to make sure your vaccination certificate is valid before making plans to travel within the EU. Note that his rule does not apply to travels within Germany.
In Germany, a segregation obligation applies in accordance with the Coronavirus Entry Ordinance of the Federal Ministry of Health of 28 September 2021.
According to the new entry regulation, the obligation applies to entry into Germany with prior stay in a high-risk area or virus variant area within the last 10 days,go to their destination immediately after entering Germany and
seclude themselves there (quarantine). After a stay in a high-risk area, the travellers have to isolate themselves for 10 days, after a stay in a virus-variant area for 14 days. During this quarantine, it is not allowed to leave the house or flat or to receive visitors.
Exceptions to the quarantine obligation:
The obligation to segregate does not apply to persons who are
have only passed through a high-risk area (not a virus-variant area) and have not had an intermediate stay there,
only pass through Germany and leave the country again by the quickest route, or
are border commuters or cross-border commuters from high-risk areas (not virus variant areas) and have to travel in/out regularly for the purpose of exercising their profession, training or studying, but return to their place of residence at least once a week.
In case of a previous stay in a high-risk area (but not virus variant area):
quarantine ends early if a negative test result, proof of vaccination or proof of recovery is submitted via the entry portal (www.einreiseanmeldung.de). In the case of a test, however, the testing may take place no earlier than 5 days after entry.
For children under 6 years of age, quarantine ends 5 days after entry (instead of 10 days) even without proof.
In the case of a previous stay in a virus-variant area:
A shortening of the quarantine is generally not possible. If the country in question is classified as a high-risk area during quarantine and is therefore no longer a virus variant area, the regulations for high-risk areas with the above-mentioned exceptions apply.
Please also note:
Before returning from your holiday, find out whether the region where you have been on holiday has been declared a risk area. All persons entering Germany from an officially listed risk area must be in quarantine for at least five days, and only then is it possible to take a Corona test, which is also obligatory. Until a negative result is available, quarantine remains mandatory. The quarantine period has been reduced from 14 to 10 days. There will be exceptions to this rule for business trips lasting less than two days and urgent family matters, among others.
Even if you have not been to a risk area, please work from your home office for a few days first. If cold symptoms develop during this time, also get tested for COVID-19 immediately and only come back to the Institute if the result is negative.
Persons who decide to undertake a private trip to an officially managed risk area must observe further consequences after their return, in addition to the obligatory Coronatest and any self-isolation: If, for example, the work cannot be performed in the home office, the entitlement to remuneration also lapses for the time of the required self-isolation. In any case, working in a home office must be agreed with the employer beforehand; there is no entitlement to a home office.
If employees fall ill with COVID-19 shortly after or while they are in a risk area, their entitlement to continued payment of remuneration in the event of illness (Continuation of Remuneration Act) may lapse under certain circumstances - depending on how they have behaved. Therefore, it is all the more important to comply with the applicable infection control measures on site. Sick employees are also obliged to cooperate in clarifying the share of their own fault. This means that they must provide their employer with the relevant information.
Gym, showers and sports activities in general
From August onwards, the gym will be open again. Up to two people at a time are allowed to use the gym. Since more aerosols are in circulation during physical exercise, we ask you to maintain a 3-meter-distance between two persons using the Gym at the same time
Similarly, it will be possible again to use the shower facilities. Up to two people at a time may use the men's showers and changing room, while the women's showers may be used by one person at a time. We would like to remind you to please not leave any personal items (e.g. towels) in the shower or the changing room.
Activities such as yoga classes may resume too, but the number of participants should be limited and classes should take place in more spacious rooms than previously (e.g. B.032).
Corona PCR tests
For all employees or longer term guests who need testing but do not have a GP or permanent residency in Munich, we recommend the following proceeding:
- Get in touch with the patient service of the Kassenärztlichen Bundesvereinigung (National Association of Statutory Health Insurance Physicians) under the following phone number: 116117 (without predial)
https://www.kbv.de/html/aerztlicher_bereitschaftsdienst.php
https://www.116117.de/de/coronavirus.php
- Check into a hospital
- Check into a test center, which you can find in this list: https://www.landkreis-muenchen.de/themen/verbraucherschutz-gesundheit/gesundheit/coronavirus/corona-test/
But please be aware, there are center in this list, for which you need a letter of referral. The test center at the Theresienwiese requires an online booking upfront: https://www.corona-testung.de/
Here you can find a list of doctors who have specialised on Corona testing. Appointments need to be made individually. https://dienste.kvb.de/arztsuche/app/suchergebnisse.htm?hashwert=828f85d3c7264213f24ce1b7a7c1d&lat=48.1351253&lng=11.5819805&zeigeKarte=true
Psychological support
The Corona pandemic is an extraordinary situation that among other things causes psychological distress. The danger of infection from a novel virus and the racing and unpredictable dynamic of developments, both leading to immense limitations in personal freedom may implicate personal insecurities and pose challenges to the human psyche. We wish to support our employees and help to reduce and process any distress they may perceive. Therefore, we emphasize the possibility to make use of psychological guidance from our coach Shadi Nouyan. Meetings with her can be conducted without any risks of infection via phone or video. Every employee is free to arrange a meeting in complete anonymity and independence of the institute. All meetings are under high confidentiality between employee and coach, and financially covered by the institute.
Contact details are as followed:
Shadi Nouyan
training, beratung und coaching
Lillweg 8 - 80939 München
phone + 49 (0) 89 - 123 084 02
mobile + 49 (0) 179 - 11 55 618
If you feel like learning more about the topic, here are some initial sources we can recommend:
Harvard University: https://www.harvard.edu/sites/default/files/content/coronavirus_HUHS_managing_fears_A2%5B5%5D.pdf
CNN Health: https://edition.cnn.com/2020/03/14/health/coronavirus-fears-mental-health-wellness-trnd/index.html
World Health Organization (WHO): https://www.who.int/emergencies/diseases/novel-coronavirus-2019
German Federal Ministry for Health: https://www.zusammengegencorona.de/en/
Code of conduct in the institute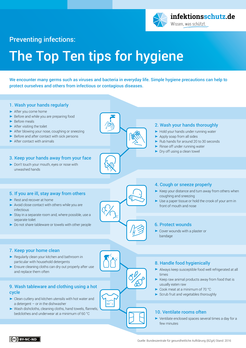 The corona virus Sars-Cov-2 is highly contagious. It is therefore particularly important to follow hygiene measures very closely. We have distributed disinfectants throughout the institute. A dispenser for hand disinfection is available in the entrance area, which should be used with every entrance to the institute. Recommendations on best practice hygiene measures are shown in the infographic and should be followed closely. Please wash you hands every time you enter or leave a lab or office, before touching any items, and after every coughing and sneezing. Try to avoid touching your face. On top of that we ask you to use desinfectants to clean surfaces and keyboards wherever possible.
Cover nose and mouth: Since April 28, 2020, a general obligation to cover mouth and nose inside the Institute is in place. This rule applies to all areas of the institute, including work in the laboratories, except when people are alone in laboratories and offices. The mask may only be taken off then and during meals. We provide all employees with a mask, which they can pick up at the gate in the morning. Always disinfect your hands before touching and putting on a mask.
Important note: Don't misjudge the safety of masks. The virus can still be transmitted if the distance rules are no longer observed. For maximum protection, keep your distance and wear masks.
Distance regulations: Keep your distance to other people, at least 1.5 metres better two metres if you are talking to people. This applies especially to the lunch breaks on the terrace, when you are not wearing a mask. It is perfectly okay and desired to keep others at a distance during meetings! This is our new rule of politeness in dealing with each other. You should refrain from "shaking hands" when greeting people.
Cafeteria operation/lunch break: With the new and stricter Corona regulations in Bavaria coming into effect on the 11th of Januar, our canteen has to close its doors. Please refrain from taking any kind of drinks and meals in the cafeteria as well as in the communication zone. Please take your lunch alone and ideally in your office. Please adhere to these rules for the time being in order to protect others and support the effectiveness of these regulations.
Guests
Guests are required to observe the 3G rule and are obligated to give proof of their vaccination status at the porter's lodge. This rule may be disregarded in exceptional cases only.
Inviting promising candidates for interviews towards the end of the application phase for a personal meeting is still permitted.
All guests have to fill out and hand in the following form at the porter's lodge:
Please submit this form, when entering the institute as a guest or visitor.
Symptoms of illness
All people who experience symptoms of illness or a feeling of discomfort typical of a cold are encouraged to stay at home and should either call in sick, or if less drastic, work from home. In case of a flu-like illness, a sick note must be made. In order not to increase the risk of infection in medical practices, the first medical consultation should be made via phone. In any of those cases the institute should stay informed about further developments and courses of illness. Contacts are listed on the right.
If any acute symptoms occur during working hours or whilst being present at MPQ, the institute is to be informed immediately. For these purposes an emergency room (C 2.69) has been set upwhere employees can withdraw and, if necessary, put on protective masks until further action, such as transport at home or medical consultation have been taken.
In order to keep track on how many people are currently either sick, in (self) quarantine and/or home office, we ask the team assistants to collect this information and submit it on a weekly basis (every Friday) to the head of administration.
Informing the Institute
Please contact the institute immediately if any of the above cases eventuates. The same holds if you feel unsure about any of the situations above and require assistance. The institute is also to be kept informed on a regular basis on any cases of illness and/or abstinence from the workplace.