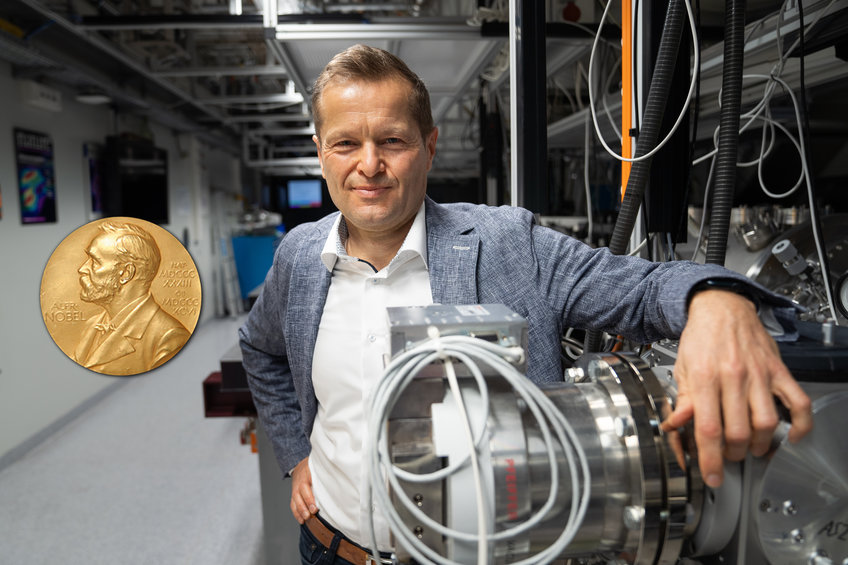 A Nobel Prize for the Attosecond!
A highspeed camera for the fastest movements in the universe - electrons in atoms and molecules.
One billionth of a billionth of a second - ultrafast light pulses allow the real-time study of nature's fastest processes - the movement of electrons in atoms and molecules. For the development of this new and groundbreaking experimental method, Ferenc Krausz, Director at the Max Planck Institute of Quantum Optics, Anne L'Huillier from Lund University and Pierre Agostini from Ohio State University receive this year's Nobel Prize in Physics! Congratulations!
"A prize like this demands great humility," said the new laureate at the press conference in Garching near Munich. Ferenc Krausz was taken completely by surprise when he received the good news from Stockholm that day. It was Open Day at the Max Planck Institute, for which he had volunteered to give two lab tours and share with the public exciting insights into his research. That, in addition to the interest of the many hundreds of people on site, the spotlight of the whole world be on him and his science was a huge and happy surprise for everyone - and ultimately a lucky coincidence.
The Directorate of the Institute congratulates
"Our institute is extremely proud of Ferenc Krausz and it is a real privilege for all of us having him as a college. We all hoped for his Nobel Prize knowing of his extraordinary achievements, along with the other laureates. And now they have been recognised, which makes us really happy." comments Ignacio Cirac, currently Managing Director and Scientific Director of the Theory Division at the Max Planck Institute of Quantum Optics.
"Congratulations on this unique and well-deserved award! Even when I was still a bachelor student in Ferenc's research group, we had always expected this. Ferenc's award impressively underlines the extraordinary scientific excellence of our institute. It is a great honour for me to be part of the MPQ again and I am looking forward to further collaboration with Ferenc and the other Directors and of course the whole institute!" says Monika Aidelsburger, new Junior Director at the MPQ and head of MPQ's new independent research area Engineered Quantum Systems.
"My warmest congratulations to Ferenc and his entire team for this fantastic honour of the fundamental research that unlocked the new field of attosecond physics! We are all incredibly proud of you, Ferenc, and very happy to have you amongst us as a member of the MPQ. I wish you many more years of exciting research with further groundbreaking successes," says Immanuel Bloch, Director of the Quantum Many-Body Systems Department.
"10 to the power of 18 congratulations on your well-deserved Nobel Prize, one congratulation for every attosecond. I celebrate with you being that you have been awarded the highest prize in science. The prize was certainly just a wish more than 20 years ago, when we got to know each other better during your appointment to our institute. Since then, you have established and advanced the field of attosecond physics with a great deal of diligence, commitment and creativity. And now your wish has come true. I am very proud of you and thank you for everything I have learnt from you over the years." congratulates Gerhard Rempe, Director of the Quantum Dynamics Department.
When I heard about the Nobel Prize to Ferenc Krausz on the Open Day at the MPQ, I immediately jumped onto the subway to congratulate him and to help celebrate this fantastic event. The prize recognises the work of many scientists, students, technicians, and administrative staff who can all be proud of their work. This is the second Nobel Prize for our institute, and it can only further strengthen the MPQ, the Max Planck Society and the Ludwig Maximilian University", says Theodor Hänsch, Emeritus Director of the Laser Spectroscopy Division at MPQ and Nobel Prize Laureate of the year 2005.