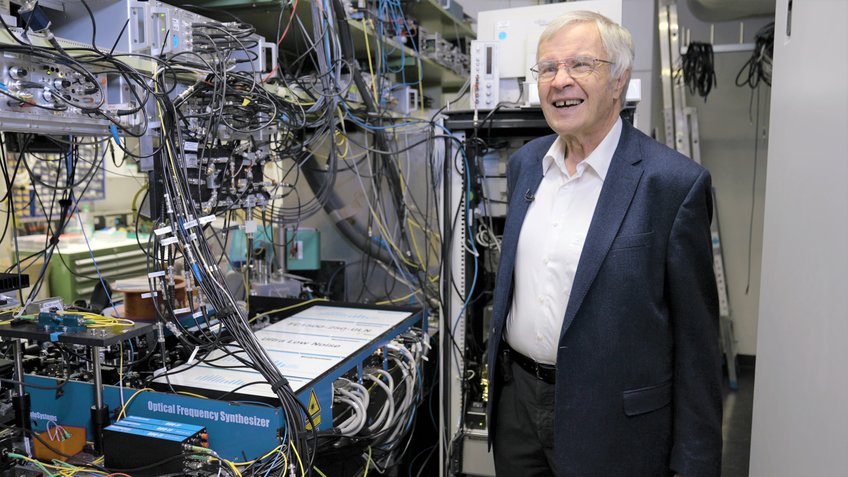 80 years and not one bit tired!
Theodor Hänsch, Emeritus Director at the MPQ and Professor at the LMU, is an eager experimentalist, physicist, Nobel Prize winner, pioneer, inventor, passionate explorer, teacher and, above all, a great role model for many young scientists. Tomorrow, on Saturday October 30, he celebrates his 80th birthday.
Theodor Hänsch has achieved a great deal of things: he co-founded a new field of research, invented the frequency comb, won the Nobel Prize in Physics with it and built up a successful global company, obtained professorships at Stanford and LMU Munich, and took over a directorship at MPQ, his list of prizes, dignities and awards is endless. Theodor Hänsch is one of the most important physicists of our time. This Saturday he turns 80 years old and he is still not one bit tired.
Theodor Hänsch has been with our institute almost from the ground up. In 1986 - five years after the official founding of the MPQ - he started the Laser Spectroscopy Department, which he still heads today as Emeritus Director. At the same time, he also took over a chair at the Faculty of Physics at LMU Munich, where he also runs several laboratories to this day - including his beloved "Spiellabor" (Play Lab). In all these years, he has inspired, shaped and accompanied countless, especially young, scientists. One of them is Immanuel Bloch, today Managing Director at the MPQ and once himself a doctoral student of Professor Hänsch:
"Theodor Hänsch is a luminary in the field of quantum optics. With his incredibly intuitive grasp of physics, he has always managed to conduct research on highly innovative topics. To this day, he is also directly involved in the experiments and has retained an immense youthful curiosity and joy about physics. This passion for physics defines his work, and we are proud that with his style and research he has had a significant impact on the MPQ. Through his motivating leadership style, he has always succeeded in infecting young scientists with this passion and spurring them on to top performance, thus creating a unique scientific family all over the world," says Immanuel Bloch about his colleague and former doctoral supervisor.
With his enthusiasm, tireless curiosity and dedication to science, he still impresses the people in and outside his scientific community - and he shows no sign of shutting down his work: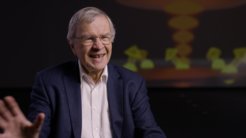 "There is a sometimes overlooked difference between technology development and basic research. In development, it is important to pursue a clear goal systematically and with perseverance. In my own research, I am concerned with exploring unknown or overlooked avenues and tracking down new worthwhile targets. In doing so, I often rely on my instincts and I work playfully and improvisationally in my own lab, also to make my mistakes quickly and find my way out of dead ends. Fortunately, I have a good track record. So I hope that the Max Planck Society will continue to support me in my work for many years to come."
Dear Ted Hänsch, we hope so too! To your 80th anniversary, we, the Max Planck Institute of Quantum Optics, dearly wish you all the best!