Flore Kunst is the first awardee of the new Swedish "Oseen Medal"
After being named "Female Physicist of the Week" by the German Physical Society (DFG) in March 2020, this is already the second award the talented young scientist has been honoured with this year.
Flore Kunst, postdoctoral researcher in the theory group of Ignacio Cirac, was awarded the "Oseen Medal" of the Swedish Physical Society this week. The prize is awarded for the first time this year on the occasion of the centenary of the Swedish Physical Society. The name patron is Carl Wilhelm Oseen who was a well-known Swedish theoretical physicist and member of the board of the Nobel Committee. The Oseen Medal is now awarded in his name to the best doctoral thesis in physics. Flore Kunst, who has been honoured for her achievements before, is now also the first recipient of this debuting prize.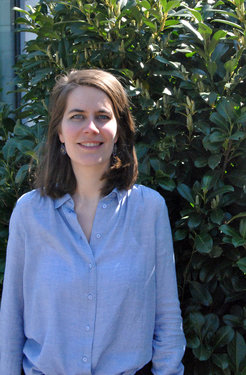 Flore Kunst receives the prize for her doctoral thesis "Solvable Topological Boundaries" in the field of condensed matter physics, which she defended in 2019 at Stockholm University. In her work, she developed an exact calculation method for topological boundary and surface states in quantum mechanical systems, which was previously only possible in simple special cases. Her method provides a number of new insights into topological quantum matter and has attracted much international attention. In the long term, her work may contribute to the development of quantum computers or the construction of a new generation of transistors. For her thesis she was already awarded Stockholm University's Sigrid Arrhenius Scholarship in 2019, which is awarded once a year to the best doctoral thesis in all of natural sciences.
"I was very surprised when I heard that I had won the Oseen Medal. I really didn't expect it at all. I feel very honoured and at the same time I am happy about it. I think it is very important to show that in a male-dominated field there are women who are successful. One should not underestimate the value of role models. Although I do not want to speak of myself as a role model, I very much hope that this can inspire other women and girls. But the award is also important for me personally: It is a reward for my hard work and a wonderful encouragement to continue," says Flore Kunst about the award.
"Today is a good time to be a female physicist. There are many initiatives to improve the positions of women and give more recognition to their achievements. It's great to be part of this change."
In March of this year, Flore Kunst was also honoured by the German Physical Society for her extraordinary achievements as Physicist of the Week. The Oseen Medal is the second prize that the young female scientist has received in this year alone.
Why she is so fascinated about quantum physics, she recently discussed with her current mentor and Director of the Theory Department Ignacio Cirac in an exciting two-part discussion for the MPQ Instagram Channel on the occasion of this year's 60th anniversary of the laser. The video is still available via the following link: https://www.instagram.com/tv/CANucQVqzJ2/?utm_source=ig_web_copy_link
(KJ)