Lasers | Light | Life - Exhibition reopened
The exhibition Lasers | Light | Life in the ESO Supernova Planetarium & Visitor Centre has been reopened after five months
After the five-month closure of the ESO Supernova Planetarium & Visitor Centre on the Garching research campus due to Covid-19, we are pleased to announce that our exhibition Lasers | Light | Life on the occasion of the 60th anniversary of the development of the laser has been reopened on August 5th and was extended until November 1st, 2020!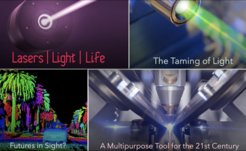 You, your family, and friends will now have the opportunity again to learn about the fascinating world of laser technology and research. Since the current Covid-19 measures for your own safety allow only a limited number of visitors in the whole building, an online reservation for free tickets is inevitable at this point in time and therefore mandatory. Reservations can be made via the link below (we recommend you to plan possible alternative dates for your visit in advance in case that there are no more available tickets on the date you wish to visit): https://supernova.eso.org/programme/calendar/category/tours/
Please also note the slightly changed opening hours, which we have updated accordingly on our website https://www.laserlichtleben.de/en/ under the section "Contact"!
Special precautions apply to our exhibition:
For the visiting tour, a one-way route system now applies.
A minimum distance of 2 metres must be maintained during the visit. Appropriate stickers on the floor make it easier for you to comply with this.
The laser harp may currently only be operated by one household at a time. Please also note the separate entrance and exit to the room.
Possibly there may be waiting times or short-term access restrictions. For your own safety, we ask for your understanding and recommend that you allow sufficient time for your visit.
You can find out about the current security measures of ESO Supernova Planetarium & Visitor Centre here: https://supernova.eso.org/visit/restrictions/
We are happy to welcome you again and have already missed you! And the most important thing at this point: Stay healthy!