Prof. Simon Eidelman                 31.07.2016 - 28.08.2016
Budker Institute of Nuclear Physics, Siberian Branch of the Russian Academy of Science and Head of High Energy Physics, Physics Faculty, Novosibirsk State University  -
hosted by: Theodor W. Hänsch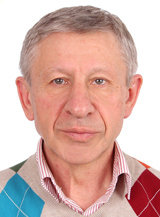 Visiting the Laser Spectroscopy Division
from July 31 to August 28, 2016
On the person:
Prof. Eidelman is the chief researcher of Budker Institute of Nuclear Physics, Siberian Branch of the Russian Academy of Science and Head of High Energy Physics, Physics Faculty, Novosibirsk State University.
His topics of interest include tests of Quantum Electrodynamics and Standard Model in general as well as Effects of strong interactions in atomiclike systems.
Selected publications:
M. Benayoun et al., Muon g-2: Quo vadis? Arxiv:1407.4021, 2014
V. Khachatryan et al., Observation of the rare B_s -> mu+mu-decay from the combined analysis of CMS and LHCb data
Nature 522, 68 (2015).